Friday, July 3, 2009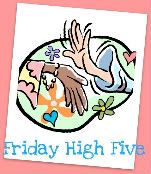 For Friday High Five today I thought I would list five things I'd like to do while at camp till the middle of next week. Try not to miss me too much and feel free to leave me lots of comment love while I'm gone.
It is important to note that they are not listed in order of importance.
Remain Sane. I am camping with hubby, my three kids and our dog. Add that to the fact that my sister, her husband, their two kids and their dog are also coming and I'm seriously wondering if I'm going to return home with all my marbles.

Stay Dry. I H.A.T.E. camping in the rain. For many reason, but the main ones being a) trapped in the tent or the van; b) nothing ever dries completely again.

Not resent the dog. I have a valid fear that because the dog isn't allowed at the pool, or can't go into ____________ fill in the blank, my husband is going to spend most of his vacation relaxing at the fire pit "watching the dog".

Have fun. I really want to have some fun with the kids and not be the grumpy parent.

Get into the picture. I tend to be the photographer and because of this I am seldom "in the picture". I want to get into the photograph on this trip.
What do you have planned this holiday weekend? I will return with a lengthy post about our adventures sometime next week.
The campground has WiFi and my husband informed me that he may have to do some work. I'm trying not to be annoyed by that. I'm doing my yoga breathing and permanently planting a smile on my face.
I'm avoiding my email and my blog for the next five days. My hope is to return with more followers and tons of comments. (hint, hint)
If I do anything electronic over the next few days it will most likely be updating my twitter status which you can read along the left hand side of my blog.
Pray those updates do not include "Three days of rain and I've decided to eat my left arm for fun."
to read more Friday High Five posts visit Angela and tell your dropping by from my site.