Friday, September 4, 2009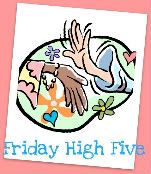 I'm really not sure why I'm online right now. I, quite frankly, have too much to do and don't feel like doing any of it. But alas, the computer is a good distraction.
We are getting ready for our Labor Day trip to North Carolina. We will be celebrating my nephew's birthday and hanging out with friends and family. I can't wait.
My sister recently put in a salt water pool and my kids are bursting at the seems to jump in! I promise a picture filled post on Tuesday.
In the meantime I need to accomplish the following:
Pack, pack and pack.

Rig up the video player in the van (love that thing!)

Fill the van with gasoline.

Wrap and try not to forget my nephew's present.

Clean up the entire house so I don't have to do it when I get back.
Anyone want to come over and help?
What do you have planned this weekend?