Friday, August 28, 2009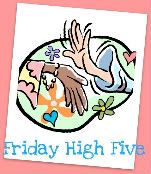 It's Friday!
You know what that means. It's time for Friday High Five over at Angela's Adventures and Minor Mishaps. Are you playing along? Why not?

I'm burned up a little at A.C. Moore and I want to take this time to give five tips to the management of my local craft depot.
Dear Manager:
I am concerned that you are neglecting your real customers and feeding the frenzy of reselling sale items on Ebay to make a profit. Here are some tips I think you should implement, follow and adhere too.
If you put it in the flyer, order extra. You should not be sold out of anything in your sales flyer by Sunday afternoon. Your sale started five hours ago and lasts all week. Not acceptable.
Hire knowledgeable staff: Why is it that your staff quite often has no idea what a glue dot is; can't tell me where you keep the Prismacolor pencils; has no idea if there is any wizard themed paper in the entire store.
Limit product purchases: This goes back to my number one point. You shouldn't be sold out five hours into your sale. People are reselling your sale items and making a profit. That is wrong. Especially since my southern friends don't have A.C. Moores and can't buy the sale items. Do not let anyone buy more than three of the same cartridge at one time. I know they will come back and buy more later, but at least it will be more difficult for them.
Honor your rainchecks: If you are going to offer a raincheck, you should be required to honor it no matter when the item comes into the store.
Offer your sales items on your website: This seems like a no brainer.
Sincerely,
An irritate customer