Friday, August 21, 2009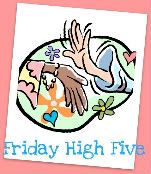 It's time for Friday High Five over at Angie's. Why aren't you playing along? Stop over and see what all the fun is about. My week has been filled with highs and lows; some worth discussing and some not.
Here are the five highlights of the week I've deemed worthy to make Friday High Five:
Kindergarten Orientation: On Monday, my son and I got to meet his teacher. He also got to walk through a school bus. His response, "They are dangerous! There are no seat belts!"
Reba's 1st solo album in 6 years "Keep on Loving You" released: Mock me if you must, but I have been a Reba fan for more than 20 years. I couldn't wait to get her new album. My favorite.. Consider Me Gone, which happens to be her upcoming single
.
Our library visit: My library is a double wide trailer. No, I'm not making that up. That being said, the librarians know us, love us, and go out of their way to get all the books my kids love and even books they think they'll love.
Park play: We went to the school playground to play this week and the kids had a blast. It actually has some shade and we didn't melt. Plus, we got to meet up with some kids and some moms we haven't seen in awhile.
A great play date: My son's little girlfriend invited us all over for a play date. I wasn't sure how it would go with my older girls as the other kids were 5 and 6; but surprisingly all of the kids played very nicely and we spent the better part of the day there.
Some of the lows of the week:
Realizing that summer is ending: I've been feeling a little "empty" about the end of summer. Hoping that I find myself once I put all of my kids on that big school bus.
Last swim lesson: I love my son's teachers and they only teach during the day. That being said, he will have a different teacher come the fall.
Two pointless meetings: I worked three nights this week and two of those meetings were pretty pointless. I hate going to meetings that don't fruit any news!
Thunder: This act of nature has been causing a lot of havoc at our pool. Get in; get out; stay in; stay out.
Dumpster diving: Not by me, but by my dog. Seems he's has an uncanny ability to find the garbage and destroy the garbage in a matter of minutes. He's highly aggravating.
What were the highs and lows of your week? Don't forget to come back tomorrow for Let's Get Crafty Saturday.