Friday, May 29, 2009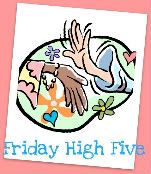 You guessed it. Today is Friday High Five hosted by the oh-so-funny
Angela
. It's not hard to play along. Just make your own list of five things, whatever five you want, and link up over at Angie's place.
Today my list consists of some of the odd things I experienced this week:
My hubby and son took the dog for a walk early Sunday morning and Little G returned covered in "Flibergas". Seriously? How do you walk the dog and get covered in fiberglass. Apparently, he climb on a utility box that was covered in the stuff....while wearing shorts. He was not a happy camper.

It is possible for my 30lb dog to shimmy under our canoe and rip out the seats. I mean who knew?

Random rapid weather changes. One minute we are in the pool, the next minute it's pouring down rain and thundering and lightening.

Tiny dogs can be furious. One tried to bite my dogs but off. Little G is still laughing about it.

My hubby had mulch delivered on Wednesday. I told the guy to put in our driveway and he looked at me a little odd but then said okay. The mound of mulch my hubby ordered is blocking our entire garage door. Holy mulch, batman!
Did anything slightly odd happen to you this week?