Friday, May 15, 2009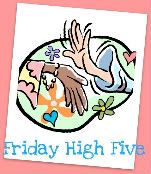 Today for Friday High Five I decided to reflect back on my week and write about the moments I wish I had back. Those little things that I would do over if I could. Have you ever wanted to hit the reset button or rewind. What would you do differently?



Oldest G is getting very mouthy. She rolls her eyes at me a lot and pushes all of my button in a bad way. This week after throwing her backpack at me at the bus stop and demanding that I tell her what we were having for dinner so she could "decide whether or not to eat it." I slapped her. Not a proud moment in my life. If I could do that over, I'd try to get a script from The Cosby Show and follow it word for word. Instead of a slap, it would have ended in us getting down to the real problem at hand and then there would have been a big hug and a commercial break.




I would not have let Little G wear his black cape to the bus stop. It triped him up about 3 times and then he no longer wanted to wear it and insisted that I carry it back thereby breaking the rule "If you carry it or bring it with you, you bring it back". When he learned I had no intentions of carrying the cape, a temper tantrum like no other ensued. And to think it was only 8:00 a.m.




I would not have invited my mother to grandparents day at the elementary school. I thought she would enjoy spending time with Middle G and taking a day off in the middle of the week. It was also her 60th birthday. I wanted to take her to get a pedicure. She insisted that she couldn't come, which in turn made both Middle G and I feel a little slighted. The good news is my in-laws were able to make it out for the day instead.




I would not have watched the season finale of Grey's Anatomy. Taking a clue from the title, Here's to the Future--now or never, I would have selected NEVER. Why couldn't they just let Knight's character, George, go off to war. He could have potentially returned if they came up with a decent storyline for him. But this is Grey's and they aren't happy unless everyone is dead, dying or clinging to life. I'm ready for this show to be retired to the shallow halls of Lifetime.




I would have gone to the gym one more time. Lately I don't feel like I'm getting my money's worth at the gym. Everytime I see that debit, I think I should be going at least three times a week. This week I made it there on Monday and Friday. As Meatloaf would say, two out of three ain't bad.
To read more Friday High Five posts or to play along, click on the button at the top of this post.