Friday, May 8, 2009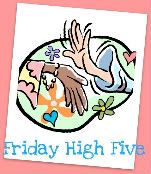 Today for Friday High five I decided I wanted to list some things I'd like to accomplish/complete/do this weekend. For all you mother's out there, I hope you have a wonderful Sunday filled with your favorite things
I would like to go to the garage sale being held at my daughter's school tomorrow. Mostly to find some illusive treasure at the cost of 25 cents.

I would like it to stop raining for the entire weekend. I'm sick of feeling like I'm on Noah's ark and I really want to be able to see Little G. play t-ball on Sunday

I would like to finish staining the dresser I bought last week. It's my first

foray

in the refurbishing furniture department and it is taking me forever to strip, sand and paint the dresser I bought last week. However, I really like how it is turning out.

I would like to have a picnic with my friend Becky and her family; we always have so much fun together; and

I would like to take a picture of my kids next to my Mother's Day tree.
I hope your weekend is relaxing and fun. To read more Friday High Fives or to participate just click on the button at the top of this post.